News & Events
In the News

Grant from American Association of University Women
Congratulations to Zamira Abman, lecturer in history and director of the Comparative International Studies Program, on an American Association of University Women (AAUW) publication grant, which will support the publication of her forthcoming book "Coerced Liberation: Muslim Women in Soviet Tajikistan" under contract with the University of Toronto Press.
Abman studies state-centered emancipation of Muslim women in Russia and Middle East. She teaches classes in Soviet/Russian history, modern Middle East and gender, world history, and western civilization. She has worked for various NGOs around the U.S. and Africa including the Carter Center, Counterpart International in Washington, D.C.
The AAUW Short-Term Research Publication grants support scholars in preparing research manuscripts for publication. Preference is given to applicants whose work supports the vision of AAUW: to break through educational and economic barriers so that all women have a fair chance.
The AAUW has awarded $6 million in fellowships and grants during the academic year 2022-23. Selected as recipients are more than 320 scholars and community projects that promote education and equity for women and girls.

Awards
Andrew Wiese was among a group of planners and park advocates (PARC) recognized by the San Diego chapter of the American Society of Landscape Architects' "Stewardship Award" for their contributions to the City of San Diego's new Parks Master Plan. Wiese's group, the Parks and Recreation Coalition also received the "Grassroots Initiative Merit Award" from the American Planning Association, San Diego section, earlier this summer.


National Forum to Explore Comics in Education
San Diego State University has created a permanent home for academic excellence and research in the study of comics.
The Center for Comics Studies was co-founded by the scholars who developed the Comics Working Group, a group of cross-disciplinary faculty interested in teaching through comics, and later the Comics@SDSU initiative in 2019.
Beth Pollard, professor of history, and Pamela Jackson, pop culture librarian and comic arts curator, co-lead the center. The University Library will serve as a founding partner, and the center will be housed in the College of Arts and Letters.
Read the full article on SDSU NewsCenter.



Professor of History Receives Fulbright Distinguished Scholar Award
Gregory Daddis will teach, lecture and conduct research at Pembroke College, Oxford
Gregory Daddis, history professor, director of the Center for War and Society, and USS Midway Chair in Modern U.S. Military History, understands America's relationship to war. He served more than 25 years in the U.S. Army before entering academia.
Read the full article on SDSU NewsCenter.

Professors Receive New National Endowment for the Humanities Grant Awards
Elizabeth Pollard, professor of history, is among 33 January 2022 awardees receiving grants for initiatives focused upon curricular innovations at Hispanic-Serving Institutions. Ranin Kazemi, international business director and associate professor in history, received one of 25 NEH Awards for Faculty to support humanities scholars in noteworthy research and writing projects.
Read the full article on SDSU NewsCenter.
Upcoming Events

Center for Military History
For events related to the Center for Military History , please visit their News and Events page.


National Forum to Explore Comics in Education
An Institute of Museum and Library Services grant places SDSU at the forefront of a proposal to merge libraries and comics for innovations in teaching and scholarship.
San Diego State University's pioneering exploration of comics as a learning tool on social justice will expand to a national stage under a grant from an agency that supports innovation at the nation's libraries and museums.
Comics@SDSU, a grass-roots faculty-led collaborative for comic studies, will forge partnerships with research libraries to develop opportunities for the inclusion of comics in education, particularly toward the teaching of diversity, equity and inclusion and other matters of social justice.
The $149,305 grant comes from the Institute of Museum and Library Services, an independent agency of the federal government, and is the first ever received by Comics@SDSU (formerly the Comics Working Group), composed of about 25 faculty members who are working to boost the comics curriculum and create a certificate in comics studies.
Pamela Jackson, popular culture librarian/comic arts curator, and Beth Pollard, professor of history, lead the group. In 2019, they utilized the library's archival collection of 100,000+ comics to develop an innovative Comics and History course with an emphasis on social justice.
Read the full article on SDSU NewsCenter.



Professor Awarded an NEH Fellowship
Kathryn Edgerton-Tarpley has been awarded a National Endowment for the Humanities (NEH) fellowship for 2021-22 which will support 12 months of research and writing for her book project titled "The Loss of Heaven: Changing Responses to Famine from Late Imperial to Maoist China." Professor Edgerton-Tarpley's project maps changes and continuities in Chinese responses to calamity in the nineteenth and twentieth centuries by employing case studies of three major famines that struck North China's drought-prone Henan Province under governments with markedly different ideological foundations. Because the prospect of fellow humans starving to death is so disturbing, famines generate intense discussion of a given culture's ultimate values and priorities. Yet conceptions of what ethical and effective responses to famine entail are neither static nor universal. In China, the decades separating the late-Qing (1800-1912), Republican (1912-49), and Maoist (1949-76) periods witnessed dramatic cultural and political change. Professor Edgerton-Tarpley draws on a decade of research in Chinese archives to examine how such changes impacted state and societal responses to the following three catastrophes: the North China Famine of 1876-79, the Henan Famine of 1942-43, and the Great Leap Famine of 1958-1962.
Professor Edgerton-Tarpley finds that when Republican-era modernizers and Mao-era communists dismissed as superstitious imperial China's cosmological view of famine and turned instead to modern science or mass mobilization, contrary to expectations famine conditions in China grew worse. She argues that the sharp rejection of imperial China's Confucian interpretation of famine, which viewed disasters as Heaven's way of warning rulers to examine themselves and change course in order to retain their Heaven-granted mandate to rule, destroyed the key mechanism that had enabled Qing emperors to publicly acknowledge famine conditions and respond by remitting taxes and providing relief. Moreover, she demonstrates that Republican and Mao-era leaders tried but failed to construct an effective new narrative of famine causation. The Nationalist government in charge during the 1942-43 famine lost some support to its communist rivals when it required starving farmers to "sacrifice for the nation" by handing over scarce grain to the state. The Chinese Communist Party came to power in 1949 promising that "not one person would starve to death," but by 1959 the Maoist state was caught in a rhetorical bind so crippling that even as 35 million Chinese people starved, the state-run media and officials at all levels denied that a famine was occurring.
New Book on Compound Remedies
Congratulations to Dr. Paula De Vos, whose new book, Compound Remedies, will be published this fall. The book examines the equipment, books, and remedies of colonial Mexico City's Herrera pharmacy—natural substances with known healing powers that formed the basis for modern-day healing traditions and home remedies in Mexico. It traces the evolution of the Galenic pharmaceutical tradition from its foundations in Ancient Greece to the physician-philosophers of the Islamic empires and the medieval Latin West and eventually through the Spanish Empire to Mexico, offering a global history of the transmission of these materials, knowledges, and techniques. The book is available for pre-order through the University of Pittsburg Press.
Professor Edgerton-Tarpley Presents at Chinese Disaster Studies Conference in Hainan, China
In mid-November, Professor Edgerton-Tarpley traveled to China's Hainan Island to deliver an invited keynote presentation at an international symposium titled "Seventy Years of Chinese Disaster Studies, 1949-2019." The conference was sponsored by the China Disaster Prevention Society, and was held at Hainan Normal University in Haikou, China. Professor Edgerton-Tarpley's presentation was titled "饥饿的医学化:中西方灾害史(1914-1962)中浮肿病和妇女病的医学研究" [The Medicalization of Starvation: Medical Research on 'Swelling Disease' and 'Women's Illnesses' in Western and Chinese Disaster Studies, 1914-1962]. The material in her presentation was drawn from her current book chapter on changing Chinese understandings of what people die of during a famine. Disaster studies is a major field in China -- there were 92 scholars in the field who presented at the conference. Thus attending the conference not only gave Professor Edgerton-Tarpley a chance to discuss new projects with Chinese disaster studies colleagues she has worked with for years, but also to meet the next generation of PRC disaster studies scholars, and both learn about their work and share her own research with them.
Comics Working Group in The Daily Aztec
Check out the Daily Aztec coverage of last week's Grove & Quitely event: University library hosts award-winning DC Comics author, illustrator to showcase comics collection.
"Several professors among the audience expressed their eagerness to expand the use of comics in SDSU's curriculum, asserting comics' untapped potential to be used as a teaching tool to teach courses such as history.
Popular culture librarian in Special Collections of University Archives Pamela Jackson said there's a group of faculty who've collaborated to create the comics working group.
The group's goal is to incorporate better utilization of comics as a resource for teaching and research and to give students more opportunities to work with the wide collection of comics SDSU offers."
Water from the Wilderness
The Emmy-nominated documentary about San Francisco's water system, based on Professor Sarah Elkind's research on California's urban water-systems, recently aired on KPBS. The documentary "Water from the Wilderness" explores San Francisco's decision to build a reservoir in Yosemite National Park in the early 20th century, but it also discusses the water supply challenges facing all of California in the era of climate change. Learn more about the film.
Putman at Comic Con
Dr. John Putman, our resident Star Trek expert, was part of a panel at this year's Comic Con on sci-fi technology inventions that may (or may not) be made into reality. The panel also included American Mensa chairperson LaRae Bakerink, attorney/writer Doug Ecks, writer/actor Nevin Millan, professor/writer Jenny Rankin and writer/publisher Ian Randal Strock.
Read the articles about the panel: San Diego Union Tribune | The Press-Enterprise
Center for Military History [Renamed the Center for War and Society in October 2020]
The Department of History is proud to announce the formation of the SDSU Center for Military History (CMH). The CMH will bring together scholars, students, and community members to support advanced research, teaching, and public engagement in Military History. Our goal is to establish SDSU as a nationally recognized center for the study and teaching of military history.
This aspiration is rooted in our history and the traditions of the region we serve. San Diego County is one of the largest active-duty military and veteran centers in the world, with more than one-hundred thousand active-duty personnel and almost a quarter-million veterans. It is home to storied institutions such as Naval Base Coronado, Camp Pendleton, Marine Corps Recruit Depot, Coast Guard Station San Diego, MCAS Miramar, and the USS Midway Museum. San Diego State University reflects this strength, with over 3,000 military affiliated students and national ranking among the nation's best colleges for veterans.
Based in the Department of History, the Center will grow existing department strengths and provide a platform for future research, teaching, and public engagement in the areas of Military, Naval, and Maritime History; the histories of war, statecraft, and national security policy; military technology; war and society; organized violence; post-war reconciliation; the lives of combatants, veterans, and survivors; and public memory.
Military History has a distinguished place in the field of history, and it supports interdisciplinary collaboration with many fields, including Political Science, International Affairs, Sociology, Military Science, and Public Administration. Study of the causes, conduct, and costs of war underlies critical public policymaking and informed citizenship.
We are excited to inaugurate the SDSU Center for Military History in Fall 2019 with compelling public programing and a new, specialized course in the Military History of WWII in the Pacific, in partnership with the USS Midway Museum.
If you want to learn more about the Center for Military History and how you can support our programs, don't hesitate to contact Professor Andrew Wiese, Department of History ([email protected] / 619-594-5262).
Download/Print this announcement
Arthur C. Wimer History Prize
The Department of History with our partners in the School of Journalism and Media Studies and the SDSU Library is delighted to announce the creation of the Arthur C. Wimer History Prize!
This annual award honors Arthur Wimer, a nationally respected journalist, who established the department of Journalism at SDSU in 1950.
The prize of up to $1000 will be given annually for the best historical essay or monograph by a student using evidence from the San Diego State University Library's Network Television News Archive, a collection of over 350 television news reports from the 1970s-2000s.
Please see there site for more information at: https://www.wilsoncenter.org/article/san-diego-state-university-library-special-collections-network-television-news-video
The prize is open to students from all majors, but History students are especially encouraged to use the Network TV collection for historical research and to compete for the prize! Several History faculty will incorporate assignments using the Network collection in their classes this Fall. So, history students, Stay Tuned!
We are grateful for the generosity of an anonymous donor for making this award possible!
First Annual Dwight E. Stanford Graduate Student History Conference
The first annual Dwight E. Stanford Graduate Student History Conference took place on Saturday May 4th. Eleven graduate students presented across three panels:
Panel #1: Competition and Comparison in Cold War Contexts
Chair: Dr. Kathryn Edgerton-Tarpley
Gene Phillips, "Reverbs of the Korean War in Germany: Assessing the Impact of Korea-Germany Parallel"
Stephen Dichiera, "The State Department and the Space Race"
Cody Billock, "Rice is as Important as Bullets: Agricultural Taxes, the Sino-Soviet Split and the Turning Point in the Vietnam War"
Tommy Farrington, "Historiographical Analysis of Sino-American Relations during WWII: Joseph Stilwell and Chiang Kai-shek"
Panel #2: Imperialism, Neo-Imperialism, and De-Colonization in the 20th Century
Chair: Dr. Edward Beasley
SL Kay, "The Politicization of the Caliphate during WWI"
Aliyah Beiruti, "The U.(S).N: Assessing U.S. Foreign Policy During the Congo Crisis"
Hannah Norton, "The School of the Americas: Teaching Torture to Latin America"
Panel #3: Cultural Diplomacy, Civil Rights, and Women's Activism in the Cold War
Chair: Dr. Angel David Nieves
John Gove, "Activism on the DL: The Gay Liberation Front at San Diego State University"
Brandon Haylings, "Civil Rights and Race Relations in San Diego: The Citizens' Interracial Committee and the Human Relations Commission of the 1960s-70s"
Amanda Schumaker, "The Committee of Correspondence: American Women's Cold War Politics and Patriotism, 1952-1969"
Michael Campbell, "Jazz Diplomacy: The Dave Brubeck Quartet in Bombay"
View the full picture album on Facebook.
Star Trek Documentary
Professor of History, and International Business Program Director, John Putman appears in "What We Left Behind," a Star Trek Deep Space Nine documentary. The documentary premieres in theaters around the country one day only — Monday, May 13, 2019. View a clip from the documentary.
History and Archives in the Media
Watch History Professor Elizabeth Pollard and SDSU librarian Amanda Lanthorne, show off SDSU's 15th century 'Hammer of Witches' at the Comic-Con Museum in Balboa Park. Watch the interview.
Virtual Reality
History professor David Cline appeared in the article, "Virtually Present," for the latest edition of the SDSU 360 Magazine. The article discusses the innovative ways in which faculty at SDSU are using virtual and augmented reality in the classroom. Read the article online.
News Flash
With a grant from the Common Experience program, Professor Kornfeld and her History 582 students will enjoy an arts infusion this semester! We will attend a theatrical performance, The Glaspell Project, at SDSU's Experimental Theatre, followed by a "talk-back" with the play's director, Prof. Randolph Reinholz, and members of the cast in September. We will have a docent tour and discussion of 20c art at the San Diego Museum of Art in October. And we will attend SDSU's signature musical event of the fall, Leonard Bernstein's Mass, at the Don Powell Theatre in December, followed by a panel discussion with SDSU's Director of Orchestral Studies Michael Gerdes, oboist and PSFA Dean Donna Conaty, Professor Andrew Aziz (a music theorist), and Professor Eric Smigel (a musicologist). All of this will be free to students enrolled in the course!
Asselin on Fox 5 News
SDSU History professor Pierre Asselin appeared on the December 3rd edition of the Fox 5 new morning show to talk about the legacy of George Bush. He was also caledl back to comment during their coverage of the funeral on December 5th.
Video courtesy of Fox 5 San Diego news
Study Abroad Trip to Florence
Want to learn more about the study abroad trip this summer to Florence, Italy? Check out this great website! The trip was from May 18 - June 30, 2018 and led by professors Brad Kirkegaard (Religious Studies) and Elizabeth Pollard (History).
Asselin Featured on C-SPAN 3
History professor and Dwight E. Stanford Chair in American Foreign Relations, Pierre Asselin was featured on C-SPAN 3's Lectures in History. Filmed in March as part of the Lectures in History series, Pierre discusses the Vietnam War; starting from the U.S. escalation in 1965 to the fall of Saigon in 1975.
To watch the full episode, please visit https://www.c-span.org/video/?442295-2/vietnam-war-1965-75
History Alumni Featured in SD Union Tribune
History alumni Jefferson Jay was featured in the San Diego Union Tribune. Mr. Jay is the curator of La Jolla's Athenaeum Music & Arts Library.
He graduated in 2007 with a masters in history after completing his 87-page thesis: "The La Jolla Athenaeum: The Jewel Within the Jewel." After graduation he proposed to open a space for singer-songwriters at the Athenaeum and that is how "Acoustic Evenings" started ten years ago this month.
Student Research Symposium (SRS) 2018
Congratulations to the students who presented at SDSU's Student Research Symposium (SRS), March 2-3, 2018:
Graduate Students
Amanda Schumaker: The Committee of Correspondence: Women in American Politics and International Relations, 1952-1969 (Winner: President's Award, goes on to compete CSU-wide research competition in Sacramento in May)
S. L. Kay: Whose Jerusalem: The evolution of a religious city into a political hot topic. (Winner: Library Award)
Aliyah Beiruti:

The Cold War Congo
Derek Bell: "And Then You Destroy Yourself" Richard Nixon, Othering, Race, and Gender
Stephen Dichiera: Sputnik: A Shock to U.S. Diplomatic Efforts;
John Gove: Networks of Power: Diversity Programming and Depictions of the Black Family in New Millennial Television
Stephanie Griswold: Nerves of Steel in the Apocalypse: The changing roles of polygamous women in an end times crisis
Eric Johnson: Stereotypes on the Margins of the California Gold Rush
Aditi Joshi: "I should have been born a man": The Paradox of Female Power in HBO's Game of Thrones
Josh Melendez: Deconstructing the Pillars of Memory: Gender, Memory and the Rwandan Genocide
Zoraida Payne: Si Dios Quiere…Y Sí No Quiere También. If God Wants… and If He Doesn't Too
Ricardo Scheller: Changes in the Bay: Topics of Police Brutality in the Bay Area
Katie Waltman: Viking Houses, Romanesque Churches, and Gothic Towers: Contemporary Ideas of the Middle Ages Seen Through the Architecture in The Lord of the Rings
Undergraduate Students
Lourdes Guzman-Amparo: The Colorado River Land Company and its impact on Mexicali Baja California's development (Winner: Imperial Valley Campus Dean's Award)
Nicholas Parker: We Shall Overcome: The Fight for African-American Equality in 1960's San Diego (Winner: Library Award)
Andrea Alvarado: The Gulf War Did Not Take Place (In Hollywood)
Sohel Bahjat: Christianity and the Fall of the Roman Empire
Jade Connolly-Cepurac: The W.I.T.C.Hing Hour
Shannon Farnsworth: History, Identification, and Significance of Buttons at the Nate Harrison Site
Annie Farrington: Untangling Arguments about Ergotism and the Salem Witch Trials - Network Analysis and Historiography
Melissa Fierro Nunez: Prominent Hydraulic Projects Propelled by an Engineering Debacle in the Imperial Valley
Hamid Kolahdouz-Isfahani: The Transformation of the Roman Empire
Declan Krebs: Roman Empire: Fall or Transformation

Rose Rastbaf: The Intersection of Gender and Campaign Finance in Local Elections
Maral Sapari: Lining the All-American Canal: The Transnational Consequences of American Conservation
Cassandra Tanks: Robert F. Williams: Armed Self Defense and the Black Freedom Struggle
Morgan Webber: The Ghost Dance Movement of 1890: Past and Present Perspectives
Senate Teaching Excellence Award
Dr. Eve Kornfeld, Professor of History, has been selected to receive the 2017-2018 SDSU Senate Teaching Excellence Award! Professor Kornfeld was nominated by colleagues for her contributions to students and for her innovative pedagogy and partnerships across campus. She was selected by a Senate panel from seven nominees; largest and most qualified pool the Senate has had in years. She will be on Thursday, April 19, at 2:30 p.m., location TBD.
Digital Publication Grant Winner
Associate Professor of History and Digital Humanities, Angel David Nieves, and his Co-PI, Elaine Sullivan (UC-Santa Cruz) were awarded a $100,000 grant from the Andrew W. Mellon Foundation and the National Historical Publications and Records Commission towards the creation of a publishing cooperative for 3D scholarship and digital scholarly editions. The project, "Scholarship in 3D: A Proposal for a Digital Edition Publishing Cooperative," intends to develop the necessary shared knowledge base and infrastructure for the successful publication of scholarly 3D digital editions, and to create new pathways to publication for scholars working with 3D content.
The planned cooperative will create prototypes to digitally publish and access historical collections for four projects currently in development by participating faculty. Institutional partners on the grant include USC, UCLA, UMass-Amherst, UT-Austin, UVA, Claremont Colleges, Hamilton College, Maynooth University (Ireland), the Alliance for Networking Visual Culture, and the American Historical Association. Publishers on the grant include Stanford University Press, the Cotsen Institute of Archaeology Press at UCLA, and the University of Georgia Press.
The project is significant as it joins together two areas of scholarly inquiry in digital humanities that seek to identify and address the long term challenges of digital preservation of historical resources and to provide access to a range of content types, especially in the modeling of 3D reconstructions.
Prof. Nieves's project, Apartheid Heritages: A Spatial History of South Africa's Townships, brings together 3D modeling, immersive technologies, and digital ethnography in the pursuit of documenting human rights violations in apartheid-era South Africa. Nieves, who has been on leave at Yale University this past year as a Presidential Visiting Associate Professor, returns to the SDSU campus this fall as an active member of the Area of Excellence (AoE) in Digital Humanities and Global Diversity. The work on this year-long planning phase, if successful, anticipates extending other grant opportunities to graduate and undergraduate students working in digital humanities in the Department of History.
Award-Winning Documentary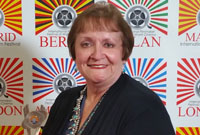 Congratulations to History Professor Bonnie Harris for her award-winning documentary: "An Open Door: Holocaust Haven in the Philippines." Bonnie is the Associate Producer and Holocaust Scholar for the documentary. An Open Door is a feature-length documentary on the uplifting story of how a small Asian nation was able to save over 1,300 Jews as they fled the pogroms of Nazi Germany. It is written, produced and directed by award-winning filmmaker Noel M. Izon.
This film has been making the International Film Festival Circuit, as well as the academic circuit, for the last year and has gleaned several awards including:
IFF, Milan, Italy: Best Doc Science and Education
IFF, London, England: Best Feature Documentary
Accolade Global Film: Merit w/Spec Mention 3 categories
White Nights FF, St. Petersburg, Russia: Best Documentary Film
38th Telly Awards: Silver Telly in History
World Humanitarian Awards , Bali: Best Picture
IFF, Madrid Spain: Best Feature Documentary
IFF Maykop, Russia: Special Jury Prize
IFF Sochi, Russia: Best Documentary
It has been nominated for Best Feature Documentary at Nice, France in May, as well as for Best Original Score. Future screenings include Indonesia, South Africa, the Philippines, Moscow.
New Publications
Dr. Mathew Kuefler has published an article titled "An Account of the Churches of Bethlehem and Jerusalem by the Priest Iachintus," in Manuscripta: A Journal for Manuscript Research, vol. 61, no. 2 (2017): 161-209. Kuefler found the text in question quite by accident when researching something else in the cathedral archives of Leon, Spain. The text turned out to be the oldest surviving description of the Tomb of Christ within the Church of the Holy Sepulchre in Jerusalem, as rebuilt in the eleventh century after its destruction. The text had long been ignored because it had been erroneously rebound in the nineteenth century within a tenth-century manuscript volume of sermons.
Dr. Joanne M. Ferraro (Albert W. Johnson Distinguished Professor of History Emeritus) has an article forthcoming in the February issue of the American Historical Review (AHR), "Making a Living: The Sex Trade in Early Modern Venice," (Vol. 123, 1, 2018: 30-59). "Making a Living" moves the gendered analysis of sex work in an economic direction. Using examples from seventeenth and eighteenth-century Venice, the analysis focuses on the ground up economics that provided women as well as men with disposable income, economic value, and agency.
New book out by Dr. Pierre Asselin: Vietnam's American War: A History (Cambridge Studies in US Foreign Relations).
Interview with Professor Emeritus Ross Dunn
Professor Emeritus Ross Dunn graduated in 1969 from the University of Wisconsin, Madison. Prof. Dunn taught at SDSU between 1968 and 2003. He was one of the pioneers in the study and teaching of World History. The American Historical Association recognized his legacy in a spotlight interview.
Post on Ken Burns'
The Vietnam War: A Historians' View
Be sure to check out the article on the Cambridge University Press blog, by our new Stanford Chair in American Foreign Relations, Dr. Pierre Asselin. In his post, Dr. Asselin shares his reaction to the new Ken Burns' series on the Vietnam War. Read the post.
New Book Chapter
Dr. Mathew Kuefler has authored a chapter in an international collection titled Celibate and Childless Men in Power: Ruling Bishops and Eunuchs in the Pre-Modern World, ed. Almut Höfert, Serena Tolino, and Matthew Mesler, just published by Routledge. The collection stems from a workshop held in 2013 of scholars invited to Zurich, Switzerland. His chapter is titled "Physical and Symbolic Castration and the Holy Eunuch in Late Antiquity, Third to Sixth Centuries."
SD Union Tribune Article
Check out this UT article about the move to eliminate the CA Missions project from the 4th grade curriculum. History professor, John Putman, is quoted.
New Article
Congratulations to Dr. David Cline – his latest article, "(Co)Constructing Public Memories: Interdisciplinary Approaches to Creating Born-Digital Oral History Archives," was just published in Collections: A Journal for Museum and Archives Professionals, 13 (2), 123-132. The article is co-authored with Ren Harman, Tarryn Abrahams, Andrew Kulak, Adrienne Serra, Ellen Boggs, Shannon Larkin, Jessie Rogers, Ashley Stant, Quinn Warnick, and Katrina Powell.
International Workshop Speaker
Dr. Mathew Kuefler has just returned from Utrecht, Netherlands, where he was invited to speak on "Christian self-castration as mystagogical practice." The paper was given as part of an international workshop on mystagogy and the body in Christian patristic thought, and will be published as part of a special issue of the journal Late Antique History and Religion.
Blog Post
Read the latest Oxford University Press blog post from Professor Walter Penrose: More than an Amazon: Wonder Woman.
MA Alums at Work
MA Alum Michelle Hamilton was featured in a recent Miami Herald article about George Washington's mother and her work at Washington House.
Here is what Michelle has to say about her job and about our MA program:
The Mary Washington House is located in Fredericksburg, Virginia and is part of the Washington Heritage Museums which manage and operate four colonial era buildings connected to the Washington family.
I have been in Virginia since May of 2014. I started as a guide at the Mary Washington House in December 2014, and became the manager in August 2015. I love my job, I have had the chance to interact with people from around the country and the world. I have had the chance to share my love of history with the general public. Without the skills that I learned at SDSU I would not have been able to get to were I am at. I used the skills that I acquired on a daily basis, from analyzing primary sources to interpreting the latest research. My advice to my fellow students is to find a niche in the history community and to go for it!
Congratulations to Michelle and her success at the Washington House!
Fulbright Awarded
Congratulations to Professo Kathryn Edgerton-Tarpley for being selected to receive a 2017-2018 Fulbright Scholar Grant for research in China. Read more about her work on SDSU NewsCenter.
World Historical Association Presentations
The SDSU History Department is delighted to announce that four MA students will be traveling to Boston, MA in June 2017 to present their graduate research at the 26th annual meeting of the World Historical Association, which will take place on the campus of Northeastern University.
Leah Gregory (Advisers: Professor Elizabeth Pollard and Professor Paula DeVos) - Did Women Have an Axial Age? Gender and Cosmic Reciprocity
Sarah Kemp (Advisers: Professor Elizabeth Pollard and Professor Walter Penrose, Jr.) - Sacred Women in Christianity and Buddhism: A Comparison of Mary, Avalokitesvara, and Guanyin from 300-900 CE
Christine Wong (Advisers: Professor Elizabeth Pollard and Professor Walter Penrose, Jr.) - Materia Medica of Rome and Han China
Samantha Young (Advisers: Professor Elizabeth Pollard and Professor Walter Penrose, Jr.) - Recasting Jewish Magic: Female Responses to Changes in World History
View presentation abstracts (.pdf)
Religion in America
Guest Blogger

Be sure to check out History grad student, Stephanie Griswold's< post on the Religion in American blog: The Mormon Path to be All-American: Good for One, Maybe Not for the Other. Stephanie is currently working on her thesis about the Fundamentalist Church of Jesus Christ of Latter-Day Saints (FLDS): their history, their family structure, and their leadership.
In Memoriam
We are sad to announce that Dr. Joyce Appleby, Historian of Capitalism and American Identity, passed away on December 23, 2016 at the age of 87. Dr. Appleby was a member of our faculty through the 1970s and remained a long-time friend of the department. Our annual Appleby Memorial Lecture is named in honor of her late husband, Andrew Bell. Read more about her life on the NY Times website.
New Book by Beasley
Professor Ed Beasley has just published his new book: The Chartist General: Charles James Napier, The Conquest of Sind, and Imperial Liberalism with Routledge Press. The book is a biography about British General Charles James Napier, known as a peacemaker in England and a warmonger in Asia.
New Book by Penrose
Professor Walter Penrose's new book entitled Postcolonial Amazons: Female Masculinity and Courage in Ancient Greek and Sanskrit Literature (Oxford, England: Oxford University Press, 2016) was published by Oxford University Press in the United Kingdom on Nov. 3, 2016, and will be published in the U.S.A. on Jan. 3, 2017.

Scholars have long been divided on the question of whether the Amazons of Greek legend actually existed. Notably, Soviet archaeologists' discoveries of the bodies of women warriors in the 1980s appeared to directly contradict western classicists' denial of the veracity of the Amazon myth, and there have been few concessions between the two schools of thought since.

Postcolonial Amazons offers a ground-breaking re-evaluation of the place of martial women in the ancient world, bridging the gap between myth and historical reality and expanding our conception of the Amazon archetype. By shifting the center of debate to the periphery of the region known to the Greeks, the startling conclusion emerges that the ancient Athenian conception of women as weak and fearful was not at all typical of the world of that time, even within Greece. Surrounding the Athenians were numerous peoples who held that women could be courageous, able, clever, and daring, suggesting that although Greek stories of Amazons may be exaggerations, they were based upon a real historical understanding of women who fought.

While re-examining the sources of the Amazon myth, this compelling volume also resituates the Amazons in the broader context from which they have been extracted, illustrating that although they were the quintessential example of female masculinity in ancient Greek thought, they were not the only instance of this phenomenon: masculine women were masqueraded on the Greek stage, described in the Hippocratic corpus, took part in the struggle to control Alexander the Great's empire after his death, and served as bodyguards in ancient India. Against the backdrop of the ongoing debates surrounding gender norms and fluidity, Postcolonial Amazons breaks new ground as an ancient history of female masculinity and demonstrates that these ideas have a much longer and more durable heritage than we may have supposed.

Read his blog entries: Hillary and History: How Powerful Women have been Maligned through the Agesand More than an Amazon:Wonder Woman.
Joanne Ferraro Speaking Engagements
After over 10 years as chair of the History department, Joanne Ferraro has returned to teaching and will continue her various speaking engagements. On October 7th, she will take part in an international conference at Venice International University, Isola di San Servolo and on October 24th, she will speak at Wofford College in South Carolina.
Star Trek's 50th Anniversary
History professor and International Business program director, John Putman recently appeared in the Star Trek documentary on the History channel. The documentary, "50 Years of Star Trek," celebrates the franchises anniversary through interviews with cast and crew members from every television series and the original films. The show originally aired on August 14, 2016.
Additionally John was also interviewed by Al Jazeera English in the Americas regarding the anniversary. Watch the video below.
NEH Stipend Awarded
Please join us in congratulating Professor Paula De Vos for her award of a National Endowment for the Humanities summer stipend. Dr. De Vos received the award to work on her project: "Nature's Craftsmen: Apothecaries and the Art of Pharmacy in New Spain and the Hispanic World." The National Endowment for the Humanities (NEH) is an independent federal agency created in 1965. It is one of the largest funders of humanities programs in the United States. The Endowment awards grants to top-rated proposals examined by panels of independent, external reviewers.
Student Research Symposium 2016 Winners
We are pleased to announce that more than a dozen History undergraduates and graduate students presented their research at SDSU's 2016 Student Research Symposium. Four of our graduate students won awards, including Samantha Young (advised by Walter Penrose) who won a Diversity Award, Beau Bennett (advised by Eve Kornfeld) who won a Library Award, and Joana Guzman (advised by Eric Boehm of IVC) and Sherry Boulter (advised by Eve Kornfeld) who both won Dean's Awards.
Congratulations to them and to all our History SRS participants!