Student & Alumni Achievements
Teresa Summers
Teresa received her bachelor's degree in History from San Diego State University with her main historical interest in ancient non-western civilizations, particularly East Asia and Latin America. During her time as an undergraduate at SDSU, she developed her academic interests and created professional aspirations, where she ultimately chose to pursue a profession within a museum setting where elements of research are involved. While completing her degree at SDSU, three significant contributions to creating this path occurred: registering for historical research development and writing courses, having research published in an academic journal affiliated with the university, and working as an intern at a local museum within their Library and Collections Department.
Teresa is currently enrolled in the University of Denver's master's program for Library and Information Science, focusing on the archival degree option to achieve her goal to become an archivist and to work within a Library and Collections department of an anthropological museum. She firmly believes that the skills and relationships developed and the knowledge gained throughout the undergraduate program equipped her for admission and successful participation in her master's program.
Upon completing this degree, Teresa intends to pursue a Ph.D. in Public History to further her archival ambitions and create additional professional opportunities within the museum field. SDSU's history program fully prepared her not just with historical knowledge but the research and writing skills needed to pursue continued higher education. Teresa feels the skills she developed from SDSU's history department have created a foundation that she can continue utilizing as she completes her master's and Ph.D. programs to carry her into achieving her professional ambitions.

San Diego County Women's Hall of Fame
Congratulations to alumna Dr. Rosalie Schwartz recently inducted into the San Diego County Women's Hall of Fame! Dr. Rosalie Schwartz started college at age 30 after she married Larry and had two daughters, Phyllis and Thelma. During the next decade, she earned a bachelor's and a master's degree in history from San Diego State University and a Ph.D. in Latin American history at the University of California, San Diego. Her research, supported by Fulbright and National Endowment grants, took her to libraries and archives in the United States, Canada, Mexico, Cuba, and Spain. In 1980, she was named an American Historical Association Fellow and worked for a year as an advisor on Latin American issues in the Capitol Hill office of U.S. Congressman Lee H. Hamilton (D-Indiana). Dr. Schwartz taught U.S. and Latin American history at various southern California universities while continuing to research and write on topics ranging from Cuban bandits (Lawless Liberators) to tourism (Pleasure Island and Flying Down to Rio) and a historical novel set in the Prohibition era (A Twist of Lemon). Read more about Rosalie.
Taylor Burke Accepts Teach For America Position After Graduating with M.A. in History
Get to know how her life was shaped through academics and role models at San Diego State University

How has your M.A. prepared you for your current role at Teach For America?
Getting my M.A. from San Diego State University has prepared me for my position at Teach For America immensely. After getting my B.A. in history, I was very lost as to what I was going to continue to do, and how I was going to get there.
It was always a joke in my family that I am the "Forever Student" because I love to learn and I never wanted to stop. Naturally, I applied for SDSU's M.A. in history during the fall of 2018.
My experiences in the program began as any student, fresh out of their bachelor's, would expect. Classes are small and slightly intimidating, and because of this, I had to adapt to being comfortable speaking up rather than sitting in the back and hoping I did not get called on, however, this aspect alone has developed me into a more confident, outspoken, and well-read person, making my transition into teaching high school all the better.
One really great aspect of getting your M.A. in history from SDSU is that there is an incredibly talented team of professors and administration that are completely dedicated to ensuring your success as a student and M.A.candidate.
One person in particular helped shape my experience and my life beyond comparison, and that is Paula De Vos, who is the graduate advisor and a professor. Without the help of Paula and so many other faculty members, I likely, would not be on the path I am now, and I am sincerely thankful for the love and support they offered.
My experience prepared me to work for Teach for America by providing me with the tools to build confidence, as well as showing me how to be a great teacher through the example of those that I was lucky enough to work alongside.
What are you most excited to do in your new role?
In my new role, I am most excited to foster the academic growth of my students, as well as emotionally support them, just as my professors did for me at SDSU. Growing up, my number one goal has always been to help people, and by serving as a high school teacher for TFA, I feel as though my dreams are being answered. I am so incredibly excited to teach what I love, and to make a difference in the lives of students through the liberal arts.
My hope is to use teaching as a way to inspire students while being a positive role model and agent of change in the United States' system of public education. I am lucky enough to be stationed in San Antonio, Texas, where in-person teaching is now being practiced, so I will not be teaching remotely and get to be in a classroom.
How did your master's in history inform your career decisions?
My master's in history informed my career decisions because of what I learned while writing my thesis. I chose to study the development of the Brazilian nationality, and how that significantly affected immigrant and "non-Brazilian" groups and communities. During my research, it came to my attention that the United States has a hand in many national movements in commuist and capitalist nations in Latin America, and upon discovering this, I felt as though it was my duty, as an American citizen, to contribute to the right side of history, and the best place to start is in a classroom. It is my hope and goal to be an advocate of positive change in a country so concerned by immigration and national identity.
What course and/or professor influenced you?
The course that really changed the way that I approach history was History 550, the History of Colonial Mexico, taught by Paula De Vos. Paula was a beacon of light in my academic history. I took this course during my bachelor's, along with many standard history classes that discussed European history, American history, and so on.
I decided to take a class about Mexican history because I had never been exposed to it before. Upon enrolling in the class, I got to meet my professor, which was Paula De Vos. We had a unit on Día de los Muertos, which happens to be my birthday, November 2. After I excitedly shared that I have the same birthday as the Day of the Dead, Paula actually revealed that she was also born on November 2! It was at that moment that I decided she was going to be my role model, as a woman of conviction, kindness, and unconditional love for her students. I ended up going to her in times of academic trouble, and she always came through for me with the support that she shows all of her students, which is truly above and beyond. There were days that we sat in her office for over an hour, just talking. She calmed me down through every tough situation I faced, whether it was to do with school or life in general.
Most importantly, she has become my role model, just as I planned. It is because of Paula that I feel prepared to be a teacher, because she showed me how to do it. I could gush on and on about how much of an impact she's had on my life, but it would be better for anyone reading this to just go and meet her. Paula truly changed the course of my life, and I cannot thank her enough for still being there for me, almost a year after leaving campus. She is my teacher of the year, every year.
What was the title/subject of your thesis? Can you share the key points?
The title of my thesis is "Daltônico: The Myth of Brazil's 'Racial Democracy.'" The word "Daltônico" means "colorblind" in Portuguese. Brazil is a country with a long colonial history. When Portuguese explorer Pedro Álvares Cabral "discovered" the country of Brazil, there was an increasing need for labor as Brazil is rich in coffee, as well as many other export goods.
The Portuguese crown quickly colonized the country of Brazil, bringing in the highest percentage of African slaves in the Western world. As the country continued to become colonized, there was an overwhelming need for the Portuguese to ensure that their colony had enough white people in order to ensure that the national identity would not become black. This turned into a process known as "whitening," as the Portuguese actively supported the immigration of Europeans (mostly Italian) to Brazil in their efforts to maintain their whiteness. By 1888, slavery became abolished in Brazil and ex-slaves were now freed people to live and work and exist in Brazil. With previous notions of "whitening," and a declining economy with no slaves to work the coffee plantations, the Brazilian government allowed European migrants to come to Brazil en masse to work for very low wages on the plantations. The Italian population of immigrants to Brazil became quickly fed up with the way they were being treated by Brazilian plantation owners, and the government of Italy demanded all Italian plantation workers return to Italy, and declared no Italian immigration to Brazil for two years. The Brazilian government needed laborers, and with a lack of desirable, European white immigrants, Brazil looked to Japan. '
By 1906, the Japanese and Brazilian governments subsidized Japanese labor to Brazil and financed the travel of thousands of Japanese people to work their plantations. It was rumored that the Japanese were "the whites of Asia," and had an incredible work ethic. This would ensure the "whitening" of Brazil, as they continued to import Japanese labor in hopes of creating and maintaining a whiter national race. In 1933, a book called Casa grande e senzala was published by Gilberto Freyre, which essentially established Brazil as a "racial democracy," meaning that Brazil had defeated racism by way of encouraging the miscegenation and procreation of a mixed-race. This is also known as "Mestiçagem," or "Mestizaje." It was upon this ideology that Brazil pushed for a mixed-national identity, with the encouragement of whites mixing with blacks, eventually hoping to form a whiter race.
During this time, Brazil was also faced with Middle Eastern immigration, but this would not be a problem, because the Middle Easterners coming over were largely from Syria and Lebanon, typically whiter countries. The problem with this that continues to persist to this day, is that by forcing the miscegenation of races and encouraging a whiter race, the Brazilian government essentially erased the identities of immigrants and generations thereafter. The whole purpose in this was to make sure that Brazil remained as white as possible, while only recognizing the importance of Brazilian national identity. This has created generations of Brazilians that exclusively identify as "Brazilian," as opposed to having a hyphenated identity, such as "Jewish-American," or "African-American." The desire for Brazil to have a national identity was due to the Westernized ideology that being white would ensure success. In my thesis, I work to prove that while Brazil believed themselves to be "post-racial" and better than than the US, they truly hve a legacy of colorblindedness, and Freyre's concept of a "racial democracy" did not come to fruition.
If there was one thing you could recommend to other students seeking to change the world, what would it be?
If there is one thing I could recommend to students seeking to change the world, all I have to say is do it with your whole heart. There is nothing more powerful than dedication, and if you want to change the world, start with yourself. Everything comes from within, and if your heart's in it, you can't go wrong. Also, check your sources!!! To be a person of conviction and confidence who follows their heart, it is important to ensure that you are fighting for the right cause and you are fully educated on something before embracing it.
What is your favorite inspirational quote and why?
My favorite inspirational quote is, "Fight for the things you care about, but do it in a way that will lead others to join you." - Ruth Bader Ginsburg. This is my favorite quote because so often we can talk the talk, but it takes heart and conviction to walk the walk. I will always fight for what I love, but I will make sure to do this in a way that influences and inspires others to join. Being a teacher is the absolute best way to make this happen, and I hope that those who taught me will know that they have led me to join them by fighting for what they care about. I can only hope to be as successful at this as my teachers and professors have.
Do you recommend a degree in history?
My life would not be the same without learning history in the capacity that I did. The most beautiful thing in the world is following your dreams, and my dream to learn history has been so incredibly rewarding. To anyone looking to pursue history at SDSU, do it! Between the professors, administration, students, resources, and course options, I promise, you will grow beyond belief, intellectually and emotionally. The only thing I regret about my experience was not getting involved sooner.

History Alum Writes New Mystery Novel
Expatriates in Paris is culmination of research, imagination, and grit
By Leslie L.J. Reilly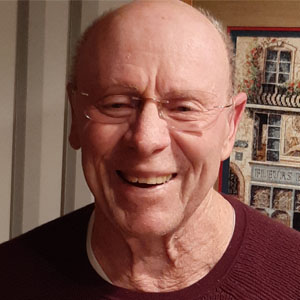 William Reed's motivation to publish in a public forum began with a telephone pole. In the late 60s, Reed, a student at SDSU, noticed poems tacked to poles throughout Pacific Beach. It inspired him to write more poetry, but he didn't post his poems on the poles — he "didn't want to hurt them" — instead he kept a notebook filled with his poetry and short stories.
Reed spent a semester at California Western and later attended Palomar College and Westmont College where he played baseball. He transferred to SDSU and graduated in 1968 with a B.A., focusing on history, English, and social studies.
Studying history piqued his interest in European and French history, and by studying English, his love of reading expanded. Reed was introduced to Hemingway's The Sun Also Rises, which influenced him greatly. Pulitzer Prize-winning author J. Anthony Lukas, who wrote Big Trouble, proved to be an inspiration. "I consider him my hero," Reed said.
The majority of Reed's career was spent in the grocery business — working at one point in the health food department at Boneys. Reed continued to write poetry and short stories while working in San Diego. In the 70s, he and his wife Linda traveled around the country — staying in a tent and "living on $26 a day." For five years, he wrote sports and general interest articles for a local newspaper in Columbus, Ohio.
In Columbus, Reed decided to take his avocation seriously. He began writing in earnest, but 400 words into his new fiction novel, he questioned himself. He wondered if he could do it. With a plethora of Hemingway research under his belt, though, he forged ahead. He kept pushing toward completing the book and attended writer's critique groups in order to improve his writing skills. "I'm really surprised I could write this novel," he said.
Expatriates in Paris was published on Amazon in September 2020. The mystery, set in 1920s Paris, features historical references, literary characters such as Hemingway and Stein, vivid geographic descriptions, and a touch of humor. At 314 pages, Reed can write.
Readers sing his praises. One reviewer said, "Mr. Reed tells a story of murder, class snobbery, and deceit with a great deal of humor. I was struck by the richness he brought to his characters and the description of the Left Bank. I thoroughly enjoyed this novel and recommend it to anyone looking for a glimpse of Paris in the 1920s." Another reviewer said, "The author has a great sense of humor, and has clearly done an incredible amount of research on the geography, history, biographies of the artists, and even the colloquial language that all give you the feeling of being there."
His forthcoming book Desert Trixx is about life in El Centro where Reed was born. If anything like his first novel, it will be filled with rich details that make the reader feel transported to a special time and place.
Reed lives in University Place, Washington with his wife.

Ramiro Frausto
Ramiro Frausto is a double alumnus, having earned both a B.A. and M.A. degree from SDSU history. He is currently the Director of the USD TRIO McNair Scholars Program. Brad helps first-generation, low-income, and underrepresented students in their pursuit of a Ph.D.
"It is personally and professionally rewarding work, which I would not be capable of doing without the analytical and communication skills I developed in my undergraduate and graduate training. I am absolutely certain that my academic training as a historian bestowed me with the skill set necessary for my current position.
For me, studying history meant understanding how we arrived out our current situation. Most importantly, I learned that democracy is a participatory sport. I believe that an informed electorate is vital to a thriving democracy. It is the role of historians to ensure that we as a society understand the successes and failures of our past in order to create a more perfect union. Thus, one of the most exciting things I get to do in my current job is represent my students and program on Capitol Hill."