Graduate Program
Why Choose Our Program?
The history faculty are devoted to teaching excellence and encourages a "community of scholars" atmosphere that includes graduates and undergraduates. In our efforts to encourage a life-long love of learning, we have had the joy of seeing our M.A. students go on to Ph.D. programs at major universities. The M.A. program provides students with experience as Teaching Associates and Grading Assistants at the university level, thereby enhancing their qualifications for middle-school, high school, and community college teaching positions.

Research, Awards, and Presentations
The Graduate Program in History at SDSU offers numerous opportunities to showcase graduate research. Our students present scholarly papers and carry out archival research at the local, national and international levels, many times winning awards and funding support. Faculty work closely with students in preparing them for visits to archives and in helping them to prepare and present papers.
Each spring a number of our students present at SDSU's Student Research Symposium (SRS), often winning awards and cash prizes. Last year, Cody Billock received a President's Award for his presentation, "The Hue Massacre of 1968" (Mentor Dr. Pierre Asselin). Scott Thiele also received a President's Award for "Constructing a Meaning of Freedom: A Gendered Perspective of the Actions of Formerly Enslaved Men and Women in the American South, 1860-1880" (Mentor Dr. Eve Kornfeld). John Gove received a Library Award for "Activism on the DL: The Gay Liberation Front at SDSU" (Mentor Dr. Cline). Eric Johnson received a Dean's Award for "The Sacramento Squatters' Riots of 1850" (Mentor Dr. Eve Kornfeld). Cody and Scott went on to compete at the CSU-wide research competition in May.
In addition to the SRS, the department has also begun sponsoring an annual Dwight E. Stanford Graduate Student History Conference. Last May, eleven graduate students presented across three panels: "Competition and Comparison in Cold War Contexts," "Imperialism, Neo-Imperialism, and De-Colonization in the 20th Century," and "Cultural Diplomacy, Civil Rights, and Women's Activism in the Cold War." S.L. Kay (Mentor Dr. Beasley), John Gove (Mentor Dr. Cline) and Michael Campbell (Mentor Dr. Asselin) won cash prizes for outstanding presentations.
Our students also work in archives locally, throughout the country, and internationally. Recently, students have consulted holdings at SDSU's Special Collections, the San Diego History Center, San Diego's Lambda Archive, the Nixon Library, the University of the Pacific, Smith College, Mexico's National Archive, and the University of Social Sciences and Humanities in Hanoi, Vietnam. Many have won competitive travel grants for out-of-town research.
We are also proud to announce that Andrea Alvarado (mentor Dr. Kornfeld) received an Honorable Mention from Sally Casanova Pre-Doctoral Program last year and has been invited to attend the California Forum for Diversity in Graduate Education to be held at UCLA in April. Cody Billock (mentor Dr. Asselin) completed intensive language training at the Southeast Asian Studies Summer Institute at the University of Wisconsin, Madison this past summer. And John Gove won the Jackie Donath Prize for his presentation at the 2019 California American Studies Association annual meeting (Mentor Dr. Cline).
Important Links
#SDSUHistory
"My professors in the MA program provided me a place to grow and explore, and guided me on a path of my own goals and ambitions. It was more than just a place to learn."
Advising
Dr. Paula DeVos
Phone: (619) 594-4893
Office: AL 534
E-mail: [email protected]
Alumni Placements
Alumni from our program teach and work in a variety of fields around the world.
A number of our students have been accepted into law schools and doctoral programs in History, most with full funding packages, from such prestigious universities as UC-San Diego, University of San Diego (USD) School of Law, UCLA, University of Chicago, UC Irvine law school, UC Hastings law school, University of Michigan, Yale University, Texas A&M University, Purdue University, City University of New York, University of Notre Dame, Rutgers University, Northwestern University, University of Toronto, and Melbourne University.
Other alumni have gone on to careers in teaching, at schools throughout California as well as at the post-secondary level in such local institutions as San Diego State University, CSU-San Marcos, UC-San Diego, Grossmont College, Southwestern College, and the Design Institute.
They have also found employment throughout the country at such places as Texas Christian University (TX), University of Miami (FL), Georgetown University (Washington, DC), Georgia Gwinnett College (GA), Asuntuck Community College (CT), and Bellevue University (NE).
Alumni have also pursued careers in public history, finding employment at such institutions as the Nebraska State Historical Society, the William Jefferson Clinton Presidential Library, the Children's Museum of San Diego, the Museum of Man, San Diego Natural History Museum, the San Diego History Center, and San Diego's Old Town Historic Park.


Employment Opportunities
The History Department typically employs 20-25 graduate students per semester to assist professors with grading responsibilities and serve as teaching assistants. This year we have also employed students as Graduate Assistants to professors working on various research projects.


Learn More
Meet alumni Jeffrey Brown, who just received his Ph.D. from the University of South Florida (Dissertation: "A Tall Ship: The Rise of the International Mercantile Marine").
Jeffrey is completing his last semester of teaching at the University of South Florida, where he has been taking graduate classes for the last four years. Previously, he attended San Diego State where he earned his M.A. in History. He moved to California in 2008 from my native Florida to be closer to family. Jeffrey is a native of Polk County, Florida where he was a high school teacher for four years. He is a reenactor of various periods (Spanish Colonial, Second Seminole War and American Civil War - both sides) miniatures wargamer and long-term nautical historian.
His current plans are to find work in public history, preferably at a museum, historic location or government institution. He is especially interested in nautical history, including museum ships. As a backup, he is renewing his teaching certificate to teach high school, which would allow him free time to write books on history for the general public.
This is what Jeffrey had to say about our program:
My experience at San Diego State University was critical to my success at the University of South Florida. It was a SDSU I learned how to be a good student, balancing class assignments and outside work. The seminar classes were especially important because I learned how to get the most out of monographs and apply historiographical trends. Particularly important were the high standards of all my professors. Their high expectations and encouragement helped me go into the USF program knowing that if i worked hard enough, I would succeed.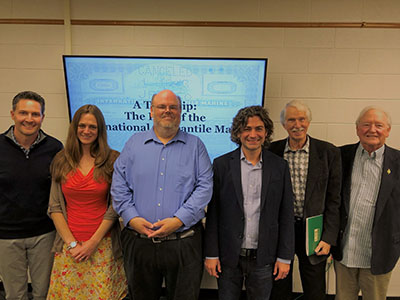 Dissertation Defense Committee, from left to right; (1) Christian Wells, Professor Anthropology, Outside Reader and Defense Chair, (2) Julia Irwin, Associate Professor, Associate Chair, History Committee Chair, (3) Jeffrey, (4) K. Stephen Prince, Associate Professor, History, (5) John Belohlavek, Professor History, and (6) Graydon "Jack" Tunstall, Senior Lecturer, History (Ret.) Executive Director Phi Alpha Theta (Ret.).
John Gove is an MA candidate in the Department of History at San Diego State University. His research focuses on LGBTQ+ activism in the United States during the mid to late 20th century, with emphasis on campus and student groups. Other interests include theoretical and practical conceptions of the archive, as well as the construction of and tensions between history and memory. He has contributed to the digital history project Apartheid Heritages: A Spatial History of South Africa's Townships, and to the exhibit Memory/Identity/Encounter, an exploration of Ukrainian identity currently in development at the Royal Ontario Museum. He is currently working on his MA thesis, which explores the history of gay rights movements in the San Diego region during the 1960s and 1970s.
Hannah Friesen is a graduate student studying modern U.S. history, specifically regarding gender and the military during World War II. She is a Southern California native, but she loves to travel. In fact, she has been to thirteen countries so far. She completed her undergraduate degree in history at SDSU as well, but she loved it here so much she decided to return for her Master's degree. Her undergraduate Honors Thesis was the first entirely digital undergraduate thesis in the SDSU's History Department.
S. L. Kay is a Masters' Candidate specializing in Middle East history who submitted their thesis, "Arabia Infelix: Britain, Sharif Hussein and the Lost Opportunities of Anglo-Arab Relations, 1916-1924." They won one of the three prizes at the first Dwight E. Stanford Graduate Student Conference for the presentation, "The Politicization of the Caliphate in World War I" last spring; and had won the Librarian's Award at the 2018 SRS for "Whose Jerusalem: The Politicization of a Religious Capital." As an academic editor, Kay helped Prof. Bonnie Harris in minor research, translation and editing of her newly-released book, Philippine Sanctuary: A Holocaust Odyssey. Graduation is expected in May 2020.
Gene Philips is a Master's candidate at SDSU in the fields of American foreign relations and post-World War II Germany under allied-occupation. He specializes in the US-West German alliance and his research project is about how, in the summer of 1950, the Korean War caused a war scare in West Germany over national reunification by force from a Soviet-back East German invasion. He won the Richard Reutten Memorial award in 2019.