Andrew Wiese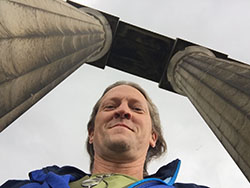 Professor
Office: AL 531
Email: [email protected]
Andrew Wiese (Columbia University, 1993) specializes in American urban history. His interests include the history of suburbanization, housing, landscape, and the role of place in the production of identity and politics. He is the author of Places of Their Own: African American Suburbanization in the 20th Century (University of Chicago Press, 2004), which won the award for Best Book in North American Urban History from the Urban History Association and the John G. Cawelti Prize for Best Book in American Culture Studies from the American Culture Association. He is also the editor, with Becky Nicolaides, of The Suburb Reader (Routledge, 2006, 2016), a volume on the history of American suburbia. Professor Wiese's current research focuses on the history of environmental politics, planning and sustainability in California.
Books
Andrew Wiese and Becky Nicolaides, eds.
The Suburb Reader. Revised Second Edition.
Articles and Chapters
Wiese, Andrew, "Friends of Rose Canyon: The Practical Politics of Place and Nature in Early Twenty-First Century San Diego," California History 95, no. 3 (2018): 2-20.
Wiese, Andrew, with Becky Nicolaides. 2017. "Suburbanization in the United States after 1945". Oxford Research Encyclopedia of American History.