Mathew Kuefler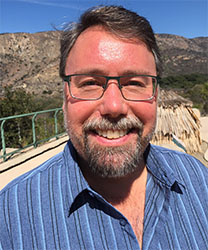 Professor
Office: AL 530
Email: [email protected]
Website
Mathew Kuefler (Yale, 1995) is a broadly trained Medievalist with specialties in the Early Middle Ages, the Mediterranean in Late Antiquity and what would become France and Spain into the Central Middle Ages. His scholarship focuses on gender and sexuality, as well as the history of childhood and the family, and gay and lesbian history. He also works on the history of Christianity in the Middle Ages. He is the author of The Manly Eunuch: Masculinity, Gender Ambiguity, and Christian Ideology in Late Antiquity (Chicago, 2001), which was awarded the Margaret Wade Labarge Award by the Canadian Society of Medievalists, and The Making and Unmaking of a Saint: Hagiography and Memory in the Cult of Gerald of Aurillac (Pennsylvania, 2014). He has edited The Boswell Thesis: Essays on Christianity, Social Tolerance, and Homosexuality (Chicago, 2005) and The History of Sexuality Sourcebook (Broadview, 2006). At present, he is working with the records of a female monastery in Leon (Spain) in the eleventh century, and doing preliminary research on the many same-sex paired saints of the Middle Ages.
Articles and Chapters
Kuefler, Mathew. "Physical and Symbolic Castration and the Holy Eunuch in Late Antiquity, Third to Sixth Centuries." in Celibate and Childless Men in Power: Ruling Bishops and Eunuchs in the Pre-Modern World, ed. Almut Höfert, Matthew M. Mesley, and Serena Tolino. London: Routledge, 2017, pp.177-91.
Kuefler, Mathew, "The Merry Widows of Late Roman Antiquity: The Evidence of the Theodosian Code." Gender and History 27, no. 1 (2015): 28-52.
Kuefler, Mathew, "Clothes (Un)Make the (Wo)Man: Dress and Gender Crossings in Late Antiquity," in Il genere nella ricerca storica: Atti del VI Congresso della Società Italiana delle Storiche, ed. Saveria Chemotti and Maria Cristina La Rocca, vol. 1 (Padua: Il Poligrafo, 2015), 128-36.
Kuefler, Mathew, "Desire and the Body in the Patristic Period," in The Oxford Handbook of Theology, Sexuality, and Gender, ed. Adrian Thatcher (Oxford: Oxford University Press, 2015), 241-54.