Kathryn Edgerton-Tarpley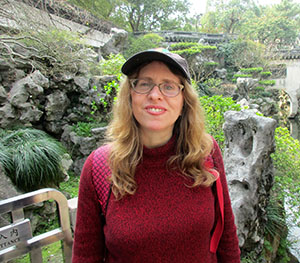 Professor
Office: AL 532 | Phone: (619) 594-6985
Email: [email protected]
Curriculum vitae
Kathryn Edgerton-Tarpley (Indiana University Ph.D., 2002) is Professor of Late Imperial and Modern Chinese History. Her research focuses on cultural and political responses to major disasters in nineteenth and twentieth-century China, while her teaching interests include World History, famine studies, gender and sexuality, comparative responses to trauma and disaster, and recent Sino-Japanese and Sino-US relations.
Professor Edgerton-Tarpley's first book, Tears from Iron: Cultural Responses to Famine in Nineteenth-Century China, was published by the University of California Press in 2008. The Chinese translation of it was published in China in 2011. Her current book project maps changes and continuities in Chinese responses to calamity by employing case studies of major famines and floods that struck North China under governments with markedly different ideological foundations. Over the past several years Professor Edgerton-Tarpley conducted extensive archival research on a pair of major Republican-era disasters, and wrote a series of articles on them. These publications include an article on Yellow River flooding and the Chinese Civil War (Social Science History, 2017), a chapter on the Henan Famine of 1942-43 published in an edited volume titled 1943: China at the Crossroads (Cornell East Asia Series, 2015), and "From 'Nourish the People' to 'Sacrifice for the Nation': Changing Responses to Disaster in Late Imperial and Modern China" (Journal of Asian Studies, 2014). At present Professor Edgerton-Tarpley is putting a Mao-era catastrophe, China's Great Leap Famine of 1958-62, in dialogue with late imperial and Republican-era case studies. She travels to China regularly for her research. Most recently, she and her two children spent the first six months of 2018 at Jiao Tong University in Shanghai, where Professor Edgerton-Tarpley conducted Fulbright-supported archival research on the Great Leap disaster.
Professor Edgerton-Tarpley offers survey courses on Asian and World history, and upper-division courses such as Hotspots of Modern Chinese History, Ancient and Imperial China, China in Revolution, Modern Japan, and Women, Sex, and Power in Chinese History. She enjoys getting students at all levels interested in Asia, working with current and future public school teachers, and exploring historical themes through foreign films and literature.
Books
Edgerton-Tarpley, Kathyrn
Tears from Iron: Cultural Responses to Famine in Nineteenth-Century China
Articles and Chapters
Edgerton-Tarpley, Kathryn.2017. "A River Runs Through it: The Yellow River and the Chinese Civil War, 1946-1947." Social Science History 41.2: 141-173.
Edgerton-Tarpley, Kathryn. 2017. "Famine in Imperial and Modern China." Oxford Research Encyclopedia of Asian History.