Pierre Asselin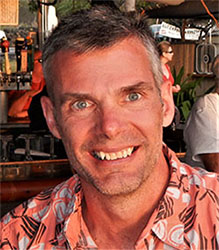 Professor
Office: AL 568
Email: [email protected]
Curriculum vitae
Pierre Asselin is the Dwight E. Stanford Chair in American Foreign Relations in the Department of History. Originally from Quebec City in Canada, he holds a Bachelor's degree from Glendon College (Canada), a Master's degree from the University of Toronto, and a Ph.D. from the University of Hawaii at Manoa. His area of primary expertise is the history of American foreign relations, with a focus on East and Southeast Asia and the larger Cold War context. He is a leading authority on the Vietnam War, a subject matter that has fascinated him ever since he watched Sylvester Stallone's Rambo: First Blood Part II in high school. Asselin is particularly interested in the decision-making of Vietnamese communist authorities in the period 1954-75. He speaks Vietnamese and regularly travels to Vietnam for research. His interest in internationalism and transnationalism during the Vietnam War has taken him to various other document repositories, including the Algerian National Archives.
Asselin is the author of A Bitter Peace: Washington, Hanoi, and the Making of the Paris Agreement (University of North Carolina Press, 2002), which won the 2003 Kenneth W. Baldridge Prize, and Hanoi's Road to the Vietnam War, 1954-1965 (University of California Press, 2013), winner of the 2013 Arthur Goodzeit Book Award. His third book, Vietnam's American War: A History, was released in 2018 by Cambridge University Press. It surveys the Vietnamese communist experience during the Vietnam War, with a focus on how the Vietnamese David succeeded in defeating the American Goliath. Other notable publications include "The Democratic Republic of Vietnam and the 1954 Geneva Conference: A Revisionist Critique" in Cold War History (2011); "Revisionism Triumphant: Hanoi's Diplomatic Strategy in the Nixon Era" in Journal of Cold War Studies (2011); and "'We Don't Want a Munich': Hanoi's Diplomatic Strategy, 1965-1968" in Diplomatic History (2012).
Asselin is co-editor of The Cambridge History of the Vietnam War, Volume III: Endings (Cambridge University Press, forthcoming [2020]). He recently started work on his fourth book project, a history of the "global Vietnam War" casting the American war in Vietnam as an international political, social, and cultural phenomenon that irrevocably changed the world and served as harbinger for myriad transnational causes. In addition to relating the history of the conflict itself, the book will address the war's effects in the United States, Western Europe, the Communist World, and the Third World. Asselin was recently featured on C-SPAN's Lectures in History series, delivering a talk entitled "The Vietnam War, 1965-75" that may be viewed at https://www.c-span.org/video/?442295-2/vietnam-war-1965-75.
Before moving to San Diego and joining the History Department at SDSU, Asselin lived in Honolulu for 26 years and taught at Kapiolani Community College, Chaminade University, and Hawaii Pacific University.
Books
Asselin, Pierre
Vietnam's American War: A History (Cambridge Studies in US Foreign Relations)